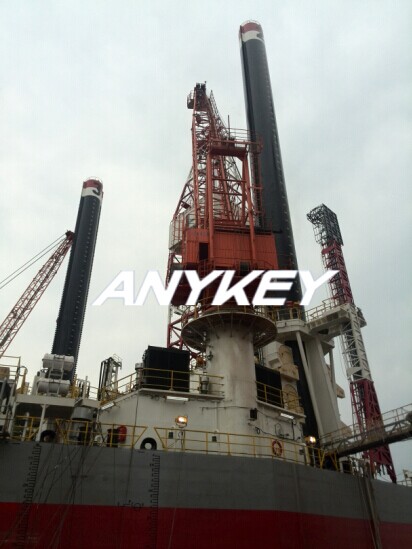 1.General principles
For strengthen the platform information construction, enhance manufacture management level and competitive force, it's necessary to build platform LAN system to connect with oil field through microwave equipments and satellite links. The system realizes a safe, stable and fast transmission for production and multimedia information.
2.System Composition
Platform LAN System is one of the most important parts of Marine Drilling Platform, it is consist of ***system and ***system. It builds a data channel for the platform and outside, it is also the basis of various applications, such as data acquisition/transmission, production monitoring and VOIP.
The system is mainly consist of satellite, microwave, wall-mounted phones,etc.
The contents of system construction: Platform LAN system, Platform microwave communication system and Platform KU-Band satellite communication system.
Below is the system structure diagram: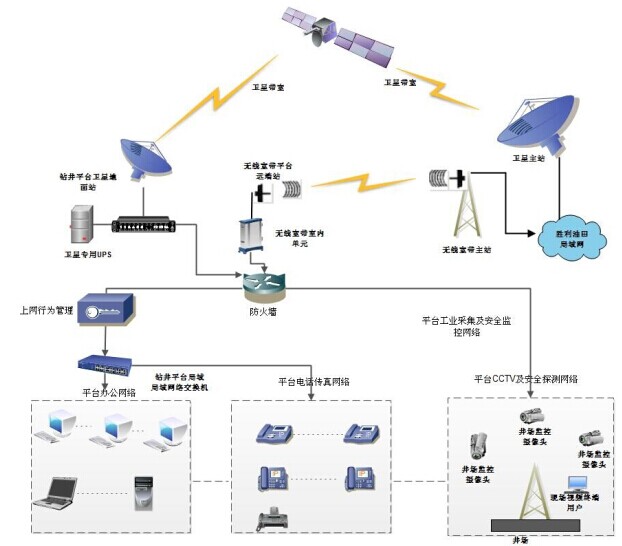 3.Functional description
(1)Platform Internet Implementation
Ensure the Manager office, Party A's office, reception room and employee dormitory can be connected to Internet.
(2)Platform Industry Network
Transmit the well repairing information to the leaders' office on the land.
(3)External Interface Requirements
The system has interfaces with below systems:
a.CCTV system, the port is RJ45 network port
b.Other system, the port is RJ45 network port.
4.Major Products Description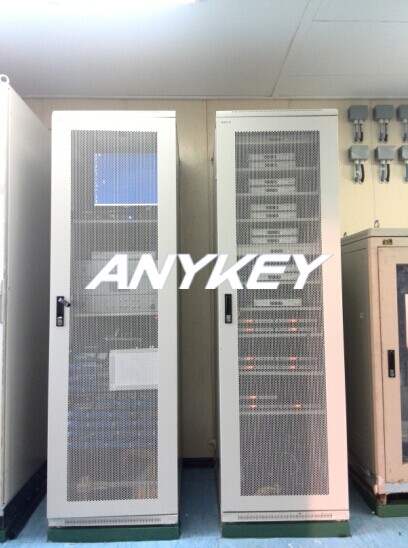 4.1 Platform LAN System Construction
The system is designed to connect network port device for date exchange, like CCTV and so on.
There are *** information sockets, ***cabinets, **server, ** phones, **voice gateways and a batch of marine communication network cables in the whole platform LAN system.
The Platform LAN System designed according to GB50311-2007(National standard integrated wiring systems and engineering design specifications of The People's Republic of China ), and it's constructed according to the national related rules.
(1) Equipments of PDS(Premise Distribution System) selected and used are conformed with the nation's related technology standard.
(2) Copper cable distribution system utilizes 5/5e marine dedicated cables.
(3)PDS channel link length is inappropriate exceed** meters, the jumper wire is inappropriate exceed *meter. And the interface units are inappropriate exceed * piece.
(4)If the electromagnetic field intensity exceeds 3V/m, shield distribution system should be adopted.
(5)The height of bottom case of socket on the wall and pillar is appropriate ***mm.
(6)The gap between parallel laying power line and cables should not lower ***mm. If there is no space between power line and cables, they are should be put in metal raceway or steel tube, the lightening protection also should be considered.
(7)The network cables should be separated with telephone cables, video cables and other cables.
(8)Other matching equipments outside the cabinet for the LAN system, like: computer, printer and so on, the fixing place should be provided by buyer.
4.1.1 Equipments technical specification
| | | |
| --- | --- | --- |
| Equipment Name | Equipment Model | Specifications |
| LAN switch | | |
| RJ45 socket | | |
| Server | | |
| Cat5e network cable | | |
| Network cabinet | | |
| Telephone | | |
| Audio gateway | | |
4.2 Platform Wireless Microwave Communication System
Microwave communication system consists of master station and platform far-end. The master station is in communication tower of Platform, the far-end is on the top of living area. The equipments are orientation planar antenna, Anykey2000 outdoor unit and Anykey2000 indoor unit in master station and platform far-end. The outdoor unit and indoor unit are connected by the special baseband cables. The outdoor unit and antenna in master station are fixed on second floor of the communication tower. The platform far-end must build a derrick for supporting the outdoor unit and antenna.
4.2.1 Systematic Design Diagram

4.2.2 Technical Specifications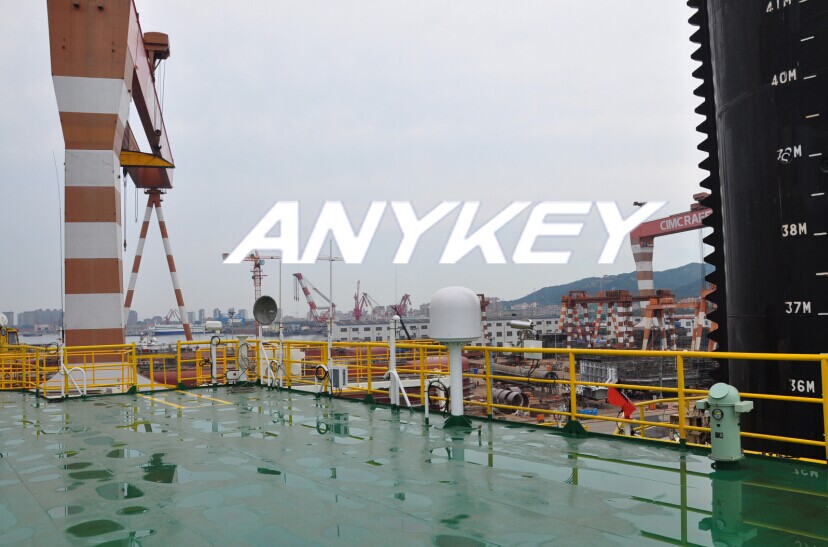 The system utilizes Anykey2000 broadband wireless access system as the wireless transmission system; Anykey2000 satisfied the data transmission requirements of platform. Compared with the old platform, the band width increases five times. It can realize the CCTV and online video meeting with high bandwidth application. Technical specifications are as below:
Radio Frequency
| | |
| --- | --- |
| Frequency | 5.725--5.850GHz |
| Wireless access way | TDD |
| Chanel spacing | 5MHz,10MHz,20 MHz ,40MHz |
| Center frequency resolution | 15MHz,10MHz |
| Output power | 28+1dBm |
| Sensitivity | -94(+1.5)dBm@6Mbps |
| Modulation(self-adaption) | OFDM:DBPSK、DQPSK、l6QAM、64QAM |
| Antenna interface | N-type50ohm |
| Far-end antenna | 23 dBi, 11°H/V flat plate type ° |
| Base station antenna | 23 dBi, 11°H/V flat plate type° |
Data Communication
| | |
| --- | --- |
| WLAN support | Based on IEEE 802.1q |
| Second floor flow priority | Based on IEEE 802.1q |
| Second floor flow priority | RP ToS, by RFC791 |
| safety | WEP 64/128/152 byte;WPA; 802.1X;Radius |
Configuration management
| | |
| --- | --- |
| Local and remote management | Telnet monitoring、SNMPuploading/ downloading |
| Remote access admin | Through LAN、wireless link to visit |
| Manage access protection | Multistage passwordRemote configurationConfigure by authorization IP address |
| Software upgrading | Through TFTP&FTP |
| Configure uploading/downloading | Through TFTP&FTP |
| SNMP agency | MIB II、wireless bridge MIB |
Physics and electric specifications
Power consumption

15W
Power supply
AC,100—240 VAC,50—60 Hz
Indoor/outdoor cables
CAT-5 shielded
Indicator light
Indoor unit
power,LAN
Outdoor unit
status,ethernet
Connection
Date interface
RJ—45
Size and working environment
Size

Indoor unit
5.9*9.5*2.5cm(0.3kg)
Outdoor unit with integrated circuit
30.5 x 30.5 x 7.7 cm(3.5Kg)
Outdoor unit
22.6*22.6*6.5cm (3Kg)
Temperature
Outdoor unit
-40℃ to 80℃
Indoor unit
0℃to40℃
Humidity
Outdoor unit
5%—95%no condensation whole day
Indoor unit
5%—95% no condensation
Design specifications of antenna derrick
(1)The antenna derrick is one kind of hot galvanizing steel tube with 50mm external diameter, the height is *meter.
(2)In daily using, Anykey-ACA automatic tracking system can be used for antenna angle adjustment.
4.2.3 Anykey-ACA automatic tracking system
The offshore drilling platform will be changed position for the field operation. When the position changed, the antenna angle changed at the same time, the communication system will be broken, so antenna direction should be recalibration by a special maintenance person.
The antenna's direction calibration is a very special work, the maintenance person should know the coordinate of base station to calculate direction angle for the adjustment. In the process of adjustment, the maintenance person needs special instruments and tools, its very inconvenience.
Anykey-ACA automatic tracking system can solve this problem; there is no need manual intervention. This system can save human cost greatly.
No matter the platform changed, the antenna on the platform will point to the base station; Anykey-ACA ensures the communication quality.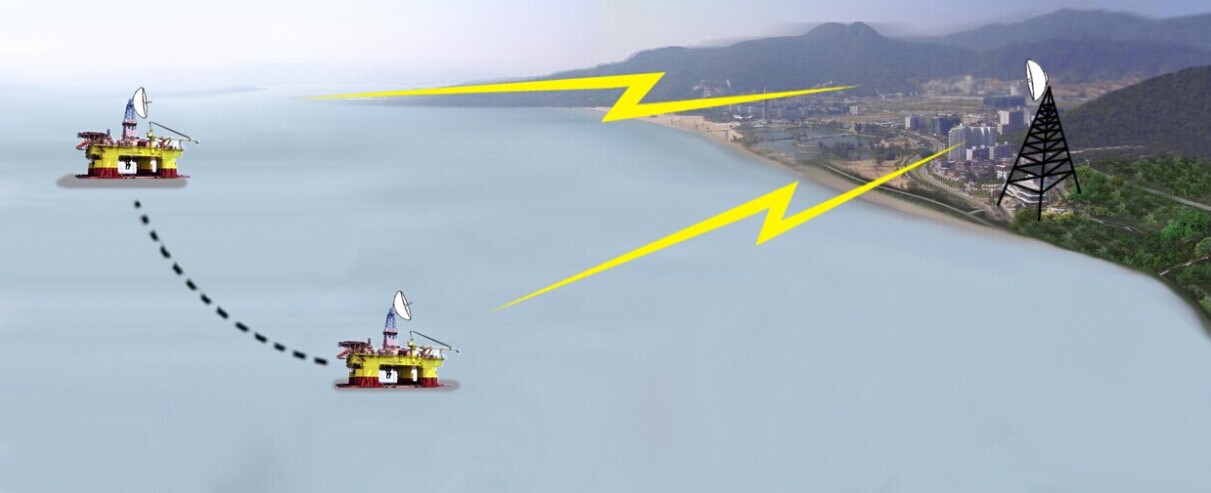 Below is the national patent certificate of Anykey-ACA automatic tracking system: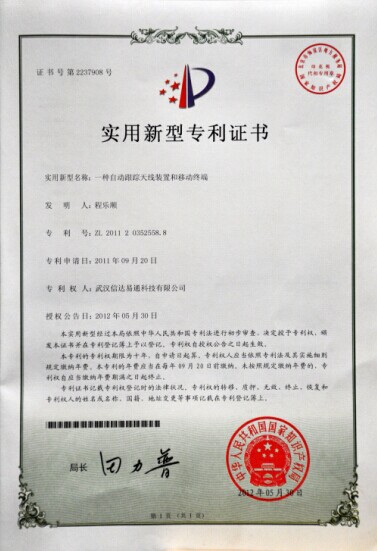 Anykey-ACA automatic tracking system provides terrestrial broadcasting, TV, microwave, and mobile communication base station automatic tracking system. The system utilizes traditional pan-tilt as driving mechanism with simple and high universality characters. This driving mechanism is very suitable for vehicle mounted, shipborne.
Anykey-ACA automatic tracking system consists of direction sensor, electric compass, GPS, controlling circuit board and embedded software.
Features
1. Through the indicator, serial port, LCD and various output devices to give the data and status for compass, GPS, Pan-tilt.
2. Optional compass hard magnetic compensation function.
3. Software algorithm sieves abnormal data of compass and GPS.
4. Accurately calculation of Antenna angle, the error angle is less than 1 degree.
5. It has mechanism to prevent the antenna repeatedly moving in static state and antenna cable winding.
Parameters
Satellite searching time:<5 minutes
Level angle alignment error: ±5 degree
Antenna feeder winding angle : <360 degree
Automatic tracking velocity: 7.5°/S 20°/S (According to the different servo platform)
Signal-pass tracking time : <72S
Electric parameters
Working voltage: 24VAC
Input power rate: <35W
Operating temperature:-10~55℃
Operating humidity: 10%~90%
Weight: 13kg

4.2.4 Lightening protection design and grounding requirement of the system
(1) The wireless device and antenna derrick utilize integrated grounding system; grounding resistance is not more than 4 ohm.
(2) The uncharged metal part of wireless communication device and power supply unit should be protected for grounding.
(3) The wireless device equipped with RF lightening protection, which can provide ground and platform connection.
(4) There designed a lightening protection system for antenna derrick.

4.3 Platform KU-band satellite communication system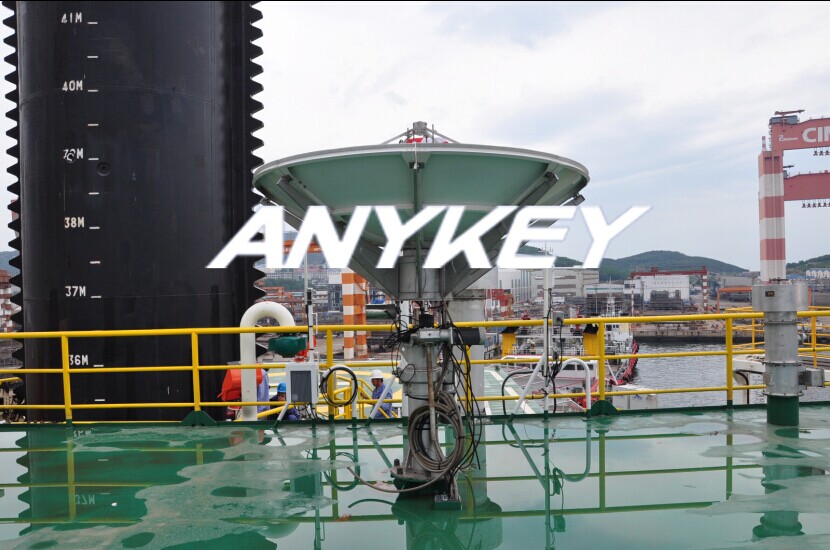 The distance effects the microwave communication, if the platform exceeds the effective working range area, communication link cannot be built. Therefore, it's very important to build a satellite communication system.
On the deck of living area, we put one set of 2.4 meter KU-Band ring focus feed forward antenna equipped with satellite outdoor power amplifier and receiving unit. In the master controlling room, there installed a set of motorized servo system cabinet equipped with a set of satellite indoor modulation equipment. After the debugging, they can be joined in KU-Band satellite communication network of offshore drilling.
4.3.1 Satellite antenna& power-driven servo system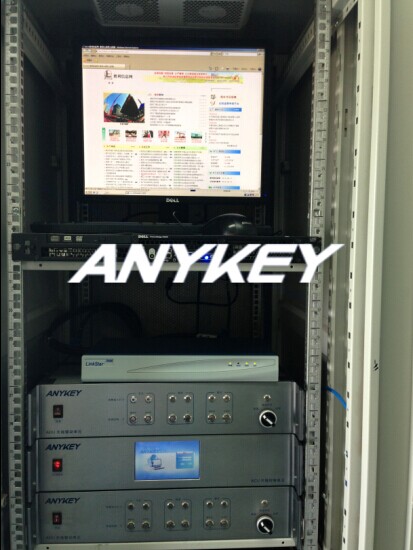 Technical specifications
RF Features
Model

ANSCE(Ku)-240B

Ku-Band

Receive

Send

Working frequency,GHz

10.95~12.75

13.75~14.5

Antenna gain ,Mid-band,dBi

47.8

49.1

Polarization

linear

Cross polarization discrimination (on axis),dB

3533

3533

Circular polarization axial ratio

VSWR

1.25

1.25

Antenna noise temperature 10° 30° 50°

48°K38°K34°K

—3dB beam width,Mid—band

0.67°

0.59°

G/T value (El>10。)

27.1dB/°K (70°I,NA)

Feed source insertion loss,dB

0.25

0.2

Power capacity,KW

2

Port

WR—75

WR—75

Transmit-receive isolation,Tx to Rx,dB

85

Side lobes First Side lobe 90%Peaks under Following Envelop

-14dB 29-2510g Ө(10≤Ө<20。)
Mechanical characteristics
| | |
| --- | --- |
| Antenna aperture | 2.4 m |
| Antenna type | Ring type focus |
| Antenna bracket | Pitching/orientation |
| RMS | ≤0.4mm |
| Antenna pointing rangeDirectionPitchingPolarization | 0°~360°,±10°(continues)0°~90°(continues)360°(continues) |
| Drive type | Manual & Motorized |
Environmental characteristics
| | |
| --- | --- |
| Wind speed | 72km/h wind gust 97km/h |
| Wind loading | 216km/h |
| Environmental temperature | -40℃~+60℃ |
| Humidity | 100% |
| Solar radiation | 1135Kcal/h/m² |
| Seismic | 0.3g horizontal,0.15g vertical |
| Ice loading | 13mm on all surface;25mm on all surface |

4.3.2Antenna structure diagram
(1)Antenna structure diagram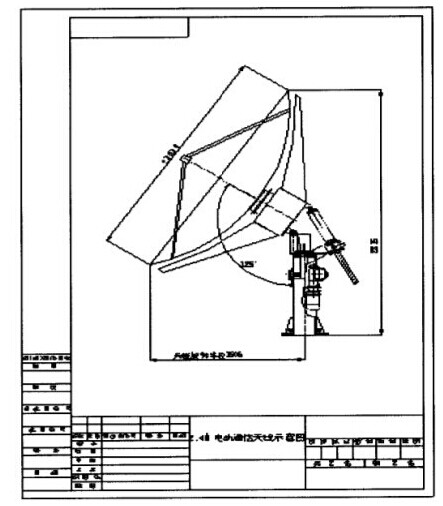 (2)The seller provides pedestal working diagram
(3)Antenna wind loading list
2.4 meter antenna (on platform) wind loading list
| | | | | |
| --- | --- | --- | --- | --- |
| Wind speed | 56m/s(90。) | 32m/s | 28.4m/s | Maximum |
| Maximum pressure Kg | 583 | 1127(10°) | 755(10°) | 1127 |
| Maximum lift Kg | 100 | 287 (160°) | 193 (160°) | 287 |
| Maximum horizontal force Kg | 446 | 288(150°) | 247 (150°) | 446 |
| Maximum wind torque Kg.m | 786 | 1032(160°) | 860 (160°) | 1032 |
Intensity pressure of Antenna foundation≥210Kg/cm²
Radius of rotation is 1.556 meter; the height is 2.015 meter, there should no other fixed objects in the radius of rotation range.
(4) Antenna servo control system
Antenna control unit is in cabinet: the size is length*width*height=0.6*0.6*1.75
(5) Satellite communication connection cables

| | | | | | |
| --- | --- | --- | --- | --- | --- |
| Item NO. | Name | Model | Unit | QTY | Identification |
| 1 | Azimuth-drive motor wire | CEFR4×1.0 | meter | 90 | CCS |
| 2 | Elevation motor wire | CEFR4×1.0 | meter | 90 | CCS |
| 3 | Polarization motor wire | CEF80/3×O.75 | meter | 90 | CCS |
| 4 | Azimuth coder wire | CEF80/6×0.75 | meter | 90 | CCS |
| 5 | Elevation coder wire | CEF80/6×0.75 | meter | 90 | CCS |
| 6 | Polarization coder wire | CEF80/6×0.75 | meter | 90 | CCS |
| 7 | Limited line | CEF80/8×0.75 | meter | 90 | CCS |
| 8 | Mid band signal cable(beacon receiver | Rgll | meter | 90 | WDZ |
| 9 | Mid band signal cable(LNB) | Rgll | meter | 90 | WDZ |
| 10 | Mid band signal cable(send) | Rgll | meter | 90 | WDZ |
There are three Power line (strong current), seven control and signal cable (weak current), length of each one is 90 meter
Requirement of wire arrangement:
Satellite signal cable is belong to weak current cables, the space between the strong current should be no less than ** meter.
4.Scope of supply
According to above functions design, the equipments and materials list of platform LAN system as below:
Platform wired LAN system

Item

Name

Model

Unit

QTY

1

Network switch(in cabinet)

PC

2

Marine low smoke zero halogen flame retardant armour cables

Meter

3

Embedded RJ45 two port network socket(thickness is no more than 45mm

PC

4

2.1 meter cabinet including pedestal(soldered to install)

PC

5

Cable manager(in cabinet)

PC

6

Network server(SZM)

PC

Platform wireless wide-band communication system

Item

Name

Model

Unit

QTY

1

Land base station equipment

Anykey2000

unit

2

Platform access device

Anykey2000

Unit

3

Directive antenna

PC

4

Date line arrestor

PC

5

Base-band cables

Roll

6

Automatic tracking antenna system

Anykey-ACA

Unit

7

Wireless router

PC

8

Router antenna

PC

Platform KU-Band satellite communication system

Item

Name

Model

Unit

QTY

1

2.4 Meter antenna

ANSCE(Ku)-240B

suit

2

Antenna control unit

suit

3

Connection cables

Special

meter

4

Cabinet(including pedestal)

pc
All the outdoor devices are conformed to IB56 level
6. Work interface partition
6.1 Project management and progress
The vendor provides excellent project management service in the whole project. The vendor assigns a project manager and notifies the purchaser after the contract signed.
The assigned project manager is responsible for the project, implementation schedule and files contacts. He also coordinates the detailed design of hardware and filed project design.
The purchaser should organize the project progress. All of the confirmed files in any times will be the attachments of the contract.
6.2 Information submission
The information providing way see the public attachment
6.3 Package and transportation
The vendor will pack all the equipments according to contract.
Some equipment is easily effected by seismic (like hard disk, soft disk and screen) which should be shockproof packed.
The vendor should transport all the equipments to the place where the purchaser assigned.
6.4 Inspection
After the equipments and materials reach the platform, purchaser and vendor will inspect together.
After the inspection passed, the purchaser should make good arrangement for the equipments storage, two parties should finish the system construction according to the contract.
6.5 Equipment installation
Purchaser is responsible for …………………

Vendor is responsible for …………………
6.6 Power supply environment
After the power supply environment reach the standard, the seller will debug KU-Band satellite system.
After the system power on, if there are damage parts, the seller should provide spare parts for free, and ensure there will be no effect for working process of the whole system.
6.7 Test acceptance criteria
After the system complete installation and debugging, before the testing, the seller should submit a complete equipment list and test recording file.
Before the platform leaves factory, the seller should submit a procedure for testing, the testing procedure is subject to confirm and execute by the seller and buyers' discuss.
6.8 Quality guarantee
The service and sales process are in strictly accordance with ISO9001 QS.
All of the equipments and devices provided are new and qualified
6.9 Guarantee period and after-sales service commitment